Who We Are
---
Krypton Neon provides an exceptional level of quality and care.
Our staff is highly qualified and experienced.
Together, we have over 50 years of glasswork experience.
We work with cutting-edge technologies and time-tested materials.
---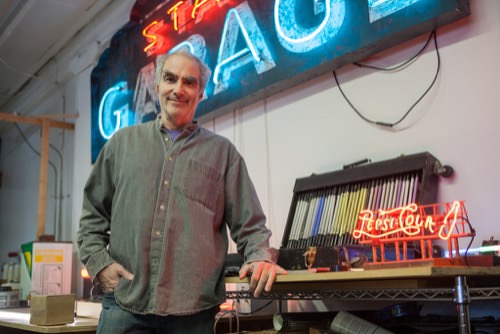 Kenny Greenberg
---
Kenny trained at the New York Experimental Glass Workshop and founded Krypton Neon in 1981. He has created neon scenic art and lighting for countless Broadway stage productions, feature films, television broadcasts, museum and corporate displays. He consults for corporations and lighting designers and he has written articles for Signs of The Times and Sign Business Magazine.

In addition to his skill as a neon glassblower, he designs electronic control circuitry and computer software.

His interactive neon art has been shown in several museums and galleries. He has also created and collaborated on numerous prominent public art installations.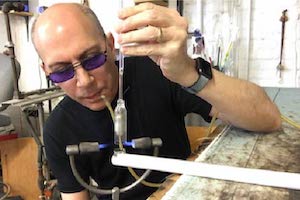 Tom Unger
---
Tom joined Krypton Neon in 2002. He has worked with glass for more than 30 years. Before Krypton, Tom worked for several sign shops, a top neon materials manufacturer, and contributed to R&D of new neon products. He has visited neon shops in America, Europe, and Asia and provided technical support. He has taught neon classes, and written about neon, as a columnist in Sign Business Magazine, and a contributor to The Neon Engineer's Notebook (2002).

Tom's work is part of many public art projects, museum pieces, advertisements, films, plays, Broadway and television shows, and the book International Glass Art (2003).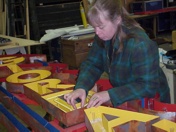 Diane Hendry
---
Diane worked in the fashion design industry creating one-of-a-kind clothing for well-known celebrities. She is an artist and freelance interior designer. Since 1988 she has brought her skills to Krypton for special design projects.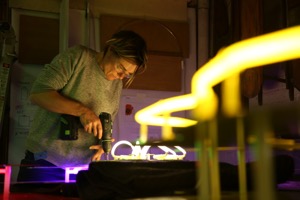 Clare Brew
---
Clare is a specialist in electrical signs, artworks, and objects. She founded Studio 156 to conserve neon artwork. She has over 30 years of experience working with artists, engineers and fabricators. Among her many skills, Clare specializes in solutions for conserving electrical artwork.

Clare has worked with a range of clients from collectors to large institutions.