Architecture Beyond Broadway:As New and Renovated Theatres Continue to Spring Up on the Midtown Landscape, a Host of Themed Venues--From TV to Wall Street to Pro Wrestling--Are Also Contributing to the Amazing Transformation of 42nd Street and Times Square. ED Takes You on a Hardhat Tour.
Two years ago, when we did our Special Report on Times Square, the area was one big construction zone. Today, most of that construction is completed, but there's a whole new spate of construction going up. As a result, it's tougher than ever to get around Times Square these days. In addition to the massive construction sites, tourists of all shapes and sizes, increased office space, live TV broadcasts from MTV and ABC, and a healthy run of Broadway hits--all are contributing to the human gridlock that is midtown Manhattan. It would be easy to complain about all this--and believe us, it is very easy indeed when you've got three minutes until curtain at the Helen Hayes and there's a gaggle of Germans gawking at the Nasdaq sign on one side, a mass of squealing teenage girls hoping for a peek of Carson Daly on the other, and you're all completely surrounded by media types from Viacom and Conde Nast gabbing on cell phones about dinner reservations.

Nasdaq offers the public the chance to immerse themselves in a stock market universe with the MarketSite Experience, a high-tech exhibit on the second floor of the MarketSite Tower. It all begins in the lobby of the building, where the Nasdaq gift shop is located and Philips plasma monitors play Nasdaq ads interspersed with computer-generated graphics of stock market questions. New York-based Batwin + Robin created the graphics for the queue line screens.
Visitors ride an elevator to the second floor, where the main part of the exhibit begins. You first enter the Information Stream Tunnel, an experience that puts guests in the data stream that leads to a video display communicating the digital network that is Nasdaq.
The project's conceptual and schematic design was provided by Harout Dedeyan of C&J Partners. Einhorn Yaffee Prescott was responsible for the design development and execution of the project; co-project architects were Jorge Szendiuch and Matt Barhydt of EYP. David Rome, a producer hired by exhibit designer Douglas Gallagher (now Douglas Group), says, "Nasdaq wanted to create a theatrical environment that lets visitors feel as if they were inside the network." Rome, who helped develop exhibits and multimedia installation for NikeTown New York and Science City at Union Station, as well as numerous corporate productions, was brought onto the project in January 1999. "I was hired by DG to work with the designers, clients, and architectural project team," he says. "It was a very aggressive schedule and I was glad to be able to work with a number of vendors that I knew would be able to respond quickly and effectively."
Ann Kale Associates designed the architectural lighting in the space, with Ann Kale serving as DUO (design, use, and operations) consultant, and Carrie Knowlton serving as co-designer. Rome tapped lighting designers Ted Mather and Anita Jorgensen of Mather/Jorgensen Lighting Design to specifically light the tunnel and theatre area as an augmentation of Kale's architectural lighting in the rest of the space. "I knew he'd do a good job of making it a dynamic space," Rome says of Mather, who worked with Rome on the Science City project at Kansas City's famous train station.
"The tunnel was a way of directing traffic flow, to get you into the theatre," says Mather. "It was like a pipe of information, with data zipping through it." Mather conveyed "data zip" by using fiber-optic lights and dimmable neon in sections of 6', which chased from one end of the tunnel to the other. "We used fiber optics because Nasdaq uses them in the real network and because it gives it a charged feeling," Mather says. The dimmable neon was designed and built by neon advisor Kenny Greenberg, who was subcontracted by lighting supplier Production Arts/PRG; fiber optics are TPR fiber-optic DMX metal halide illuminators with 210 fiber points.
The tunnel and other exhibit elements in MarketSite Experience were designed by Douglas Group and built by Exhibits International of Toronto. Project designer Seth Frankel of DG Washington says the design of the tunnel was impacted by Exhibits International's build approach. "With them, we developed a truss system that was used with all 2x2 steel welded frames," he says, adding that the steel structure freestands on the floor with cast-fiberglass panels hanging above it.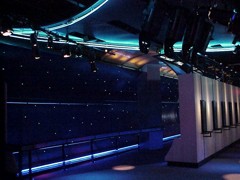 Neon Tunnel with dimming moving neon light.
Neon Advisor - Kenny Greenberg.

After zipping down the tunnel, visitors enter the Global Connections Theatre space. Mather designed a circular truss at the tunnel's exit, "shaped in the way we wanted people to walk." ETC Source Four Jr. 50-degree ellipsoidals provide pools of light in the theatre, and two neon ellipses above the rig echo its shape. "It made a nice slope to the space, instead of a big square grid up there," Mather says. The LD programmed the lights in the tunnel and the theatre using an ETC Expression 3 Lighting Playback Controller.